2022 Zoology Degree Guide
If you love watching the Discovery Channel and want to know everything you can about animals, Zoology may be the major for you!
This not necessarily the major to pursue if you want to be a zookeeper; instead you will get the opportunity to study the science and anatomy of animals. Zoology is serious science where you will study whole organisms as well as animal behavior, anatomy and internal makeup. Animals studied range from the sponge to the kangaroo and everything in between. Some of the topics you will encounter include natural habitats, conditions needed for animal survival, adaption and evolution.
Some courses you may take include: animal behavior, ecology, vertebrate zoology, ornithology, the study of mammals, herpetology, genetics, advanced math, chemistry, physics and evolutionary biology.
Concentrations in this major include: Entomology, Animal Physiology, Animal Behavior and Ethology, and Wildlife Biology.
Rapid Growth in Zoology Degrees Awarded
5.5%
Increase in Graduates
Zoology was the 165th most popular major in the 2019-2020 school year. Colleges in the United States reported awarding 3,141 degrees in this year alone. This represents a 5.5% increase in zoology degrees awarded over the prior year's total of 2,967.
The United States has 120 different schools where you can get a degree in zoology. Our 2022 Best Zoology Schools ranking analyzes 82 of these schools to determine the best overall colleges for zoology students. Explore this or one of our many other custom zoology rankings further below.
Best Zoology Schools by Degree
Zoology Degree Requirements
This exciting field allows you to take a look at the most intricate and delicate details of how animals function. As you learn about animals you will also be considering evolution and their environment. Your studies will allow you to see how animals interact with their own species as well as other animals and plants in their environment. You should have good communication skills in this major. Zoology will require you to do a lot of scientific writing with research to back up your ideas, as well as a lot of lab reports. This major will require you to attend lectures and participate in labs. Classes and group work will help you learn to work with others and get comfortable listening to opinions and new ideas.
A clear fascination with the natural world and animals it will help you to succeed. Students who are passionate about the work they are doing tend to do better. You will dissect all sorts of animals as well as collect invertebrates in the field. Hard work is necessary in this major. You need a clear understanding of the basic biology and chemistry as well as advanced math skills to continue on in the field.
Zoology Degree Program Entry Requirements
New students will need to have completed high school or a GED program and each school will have their own minimum GPA and SAT/ACT test requirements. Specific zoology careers may require a certain level of degree attainment or additional certifications beyond that.
Types of Zoology Degrees
Zoology degree levels vary. You can get anything from a in zoology to the highest zoology degree, a . Zoology programs can take anywhere between one to four or more years for a full-time student to complete.
| Degree | Credit Requirements | Typical Program Length |
| --- | --- | --- |
| Associate Degree | 60-70 credits | 2 years |
| Bachelor's Degree | 120 credits | 4 years |
| Master's Degree | 50-70 credits | 1-3 years |
| Doctorate | Program required coursework including thesis or dissertation | At least 4 years |
A bachelor's degree is the most common level of education achieved by those in careers related to zoology, with approximately 37.7% of workers getting one. People currently working in careers related to zoology tend obtained the following education levels.
| Level of Education | Percentage of Workers |
| --- | --- |
| Bachelor's Degree | 37.3% |
| Master's Degree | 22.7% |
| Doctoral Degree | 18.2% |
| Post-Doctoral Training | 13.1% |
| Post-Baccalaureate Certificate | 2.6% |
Most workers in zoology have at least a master's degree. See the chart below for the most common degree level workers in zoology have received.
The education level required is different depending on the zoology career you are seeking.
Career Opportunities for A Degree In Zoology Graduate
$23.8k
Average Starting Salary
11% Growth
Job Outlook 2016-26
After working hard during your undergraduate career, you will be prepared to enter numerous scientific fields. You could work in anything from medicine to environmental science. However, the most popular field is zoology or wildlife biologist.
Zoologists will be needed to study the impact of urbanization and population on wildlife habitats. However, competition may be high for positions in some areas. Students with work job experience may have an easier time finding a job.
Solid Growth Projected for Zoology Careers
Want a job when you graduate with your zoology degree? Zoology careers are expected to grow 11.1% between 2016 and 2026.
The following options are some of the most in-demand careers related to zoology.
| Occupation Name | Projected Jobs | Expected Growth |
| --- | --- | --- |
| Biological Science Professors | 71,700 | 15.1% |
| Natural Sciences Managers | 62,300 | 9.9% |
| Biological Scientists | 41,800 | 8.0% |
| Zoologists and Wildlife Biologists | 20,900 | 7.7% |
Zoology Degree Salary Potential
Recently graduated zoology students earned an average of $23,825 in 2017-2018. Earnings can range from as low as $16,500 to as high as $38,800. As you might expect, salaries for zoology graduates vary depending on the level of education that was acquired.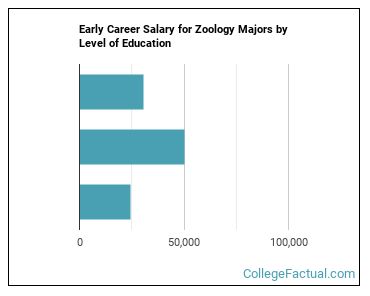 Highest Paid Zoology Careers
Salaries for zoology graduates can vary widely by the occupation you choose as well. The following table shows the top highest paying careers zoology grads often go into.
| Occupation Name | Median Average Salary |
| --- | --- |
| Natural Sciences Managers | $139,680 |
| Biological Science Professors | $97,340 |
| Biological Scientists | $83,600 |
| Zoologists and Wildlife Biologists | $67,760 |
Getting Your Zoology Degree
With over 325 different zoology degree programs to choose from, finding the best fit for you can be a challenge. Fortunately you have come to the right place. We have analyzed all of these schools to come up with hundreds of unbiased zoology school rankings to help you with this.
Zoology Related Majors
One of 14 majors within the Biological & Biomedical Sciences area of study, Zoology has other similar majors worth exploring.
Zoology Concentrations
View All Zoology Concentrations >
Majors Similar to Zoology
View All Zoology Related Majors >
References
More about our data sources and methodologies.