2022 Architectural Engineering Degree Guide
Are you interested in the art and science of designing buildings? If so, architectural engineering could be the major for you. In this major you learn about the planning, design, construction, and operation of engineering systems. This is used for all different types of buildings and includes aspects like fire protection, heating ventilating, air conditioning, electrical systems, lighting, and plumbing. These are really important features in modern buildings, although they may not be noticed by the average person.
Some of the classes you will take in this major are the fundamentals of engineering, architectural design, architectural history, steel and reinforced concrete design, construction methods, computer programming, math, and surveying.
A Spike in Architectural Engineering Degrees
7.3%
Increase in Graduates
In 2020-2021, architectural engineering was the 239th most popular major nationwide with 1,012 degrees awarded. This represents a 7.3% increase in architectural engineering degrees awarded over the prior year's total of 938.
Our 2023 Best Architectural Engineering Schools ranking analyzes 25 of these schools to determine the best overall colleges for architectural engineering students. Explore this or one of our many other custom architectural engineering rankings further below.
Best Architectural Engineering Schools by Degree
Requirements for Getting a Degree in Architectural Engineering
In order to be successful you should enjoy math and science. The principles of calculus and other advanced mathematic will be used regularly for analyzing, designing, and troubleshooting your work. These skills will lead to more advanced problem solving methods. This is important in any engineering field. Another important skill is to be a creative thinker. In the architectural field you could be working with old and new structures and need to creatively come up with solutions to problems.
Engineers frequently work on teams, making good communication skills essential to success. You will be working with other professionals to make sure buildings are up to code. You will be required to clearly explain what needs to be done and how it needs to be done, as well as listen to the other members of your team. Although teamwork is important in this field, you will also have times where you are working on your own.
Most programs will require professional internship either during the semester of over the summer. Some colleges will require you to complete a five year program in this field.
Architectural Engineering Degree Program Entry Requirements
A high school diploma or equivalent is typically required for most architectural engineering degree programs and many students will need a minimum GPA and SAT/ACT score depending on the school. Once you obtain your degree, additional architectural engineering certifications required to pursue a career in this field.
Architectural Engineering Degree Types
Architectural Engineering degree levels vary. You can get anything from a in architectural engineering to the highest architectural engineering degree, a . The time it takes to complete a architectural engineering degree varies depending on the program.
| Degree | Credit Requirements | Typical Program Length |
| --- | --- | --- |
| Associate Degree | 60-70 credits | 2 years |
| Bachelor's Degree | 120 credits | 4 years |
| Master's Degree | 50-70 credits | 1-3 years |
| Doctorate | Program required coursework including thesis or dissertation | At least 4 years |
A bachelor's degree is the most common level of education achieved by those in careers related to architectural engineering, with approximately 36.3% of workers getting one. Find out other typical degree levels for architectural engineering workers below.
| Level of Education | Percentage of Workers |
| --- | --- |
| Bachelor's Degree | 43.0% |
| Doctoral Degree | 18.3% |
| Master's Degree | 16.3% |
| Post-Baccalaureate Certificate | 6.2% |
| First Professional Degree | 4.1% |
About 51.4% of workers in careers related to architectural engineering obtain at least master's degrees. View the chart below to get an idea of what degree level most of those in architectural engineering careers have.
This of course varies depending on which architectural engineering career you choose.
Career Opportunities for Architectural Engineering Majors
$65.8k
Average Starting Salary
7% Growth
Job Outlook 2016-26
This major prepares you to become an Architectural Engineer. In this position you will help create the physical environment of everyday life. You will work with architects during design, and help with the construction process of choosing materials, and working within building codes. This field allows you to design and help build a structure.
Growth Projected for Architectural Engineering Careers
Want a job when you graduate with your architectural engineering degree? Architectural Engineering careers are expected to grow 7.1% between 2016 and 2026.
The following options are some of the most in-demand careers related to architectural engineering.
| Occupation Name | Projected Jobs | Expected Growth |
| --- | --- | --- |
| Architectural and Engineering Managers | 190,000 | 5.5% |
| Engineers | 141,000 | 6.4% |
| Engineering Professors | 54,600 | 14.7% |
| Architecture Professors | 10,500 | 10.5% |
Architectural Engineering Degree Salary Potential
Recently graduated architectural engineering students earned an average of $65,831 in 2019-2020. Earnings can range from as low as $59,103 to as high as $72,488. As you might expect, salaries for architectural engineering graduates vary depending on the level of education that was acquired.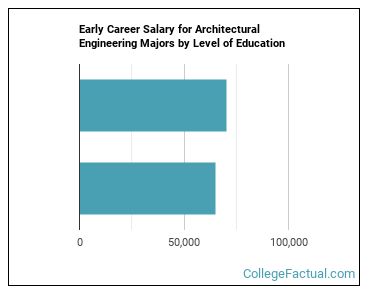 Highest Paid Architectural Engineering Careers
Salaries for architectural engineering graduates can vary widely by the occupation you choose as well. The following table shows the top highest paying careers architectural engineering grads often go into.
| Occupation Name | Median Average Salary |
| --- | --- |
| Architectural and Engineering Managers | $148,970 |
| Engineering Professors | $113,680 |
| Engineers | $99,410 |
| Architecture Professors | $99,320 |
Getting Your Architectural Engineering Degree
With over 52 different architectural engineering degree programs to choose from, finding the best fit for you can be a challenge. Fortunately you have come to the right place. We have analyzed all of these schools to come up with hundreds of unbiased architectural engineering school rankings to help you with this.
Top Ranking Lists for Architectural Engineering
Architectural Engineering Related Majors
Architectural Engineering is one of 40 different types of Engineering programs to choose from.
Most Popular Related Majors
View All Architectural Engineering Related Majors >
References
More about our data sources and methodologies.