2022 Biomedical Engineering Degree Guide
Biomedical Engineers work to improve the quality and effectiveness of patient care. In this major, you will learn how to analyze and design solutions to problems in medicine. Biomedical engineers are able to help improve the quality of life for many patients by designing and building medical devices such as prosthetic limbs or artificial organs. The world of biomedical engineering is exciting and constantly making new advances!
Every college sill have slightly different requirements for this major. However, you can expect to take classes like anatomy, biochemistry, biology, biomaterials, biomechanics, biophysical chemistry, computer programming for engineers, genetics, mathematics, organic chemistry, physics, microbiology, molecular cell biology, and micro-machines and robotics.
A Spike in Biomedical Engineering Degrees
4.3%
Increase in Graduates
In 2020-2021, biomedical engineering was the 71st most popular major nationwide with 12,811 degrees awarded. This is a difference of 553 over the prior year, a growth of 4.3%.
Our 2023 Best Biomedical Engineering Schools ranking analyzes 178 of these schools to determine the best overall colleges for biomedical engineering students. Explore this or one of our many other custom bio engineering rankings further below.
Best Biomedical Engineering Schools by Degree
What Are The Requirements For a Degree in Biomedical Engineering
If you like to come up with creative solutions to problems than this major is for you! You will be learning how things work, as well as the basics of medicine and healthcare. Students should be prepared to handle a heavy workload of both math and science. Calculus and other advanced mathematics will be used in analysis and design when working. You will spend long hours working in the lab finding solutions to problems.
You will often work on team projects while in college. This essential to prepare you for a career where you will constantly work with others: fellow engineers, project managers, patients, physicians, and other professionals. Learn to express yourself clearly as well as understand the concerns and needs of others. Don't be afraid to push boundaries in order to improve the biomedical engineering field.
Most colleges require a minimum of a summer internship, but most will want you working in the field during the school year as well.
Bio Engineering Degree Program Entry Requirements
New students will need to have completed high school or a GED program and each school will have their own minimum GPA and SAT/ACT test requirements. Once you obtain your degree, additional bio engineering certifications required to pursue a career in this field.
Types of Biomedical Engineering Degrees
Bio Engineering degree levels vary. You can spend many years getting as high as a in biomedical engineering to something that takes less time like a . Depending on the biomedical engineering degree you choose, obtaining your diploma can take anwhere from 1 to 4+ years.
| Degree | Credit Requirements | Typical Program Length |
| --- | --- | --- |
| Associate Degree | 60-70 credits | 2 years |
| Bachelor's Degree | 120 credits | 4 years |
| Master's Degree | 50-70 credits | 1-3 years |
| Doctorate | Program required coursework including thesis or dissertation | At least 4 years |
A bachelor's degree is the most common level of education achieved by those in careers related to bio engineering, with approximately 37.1% of workers getting one. People currently working in careers related to bio engineering tend obtained the following education levels.
| Level of Education | Percentage of Workers |
| --- | --- |
| Bachelor's Degree | 45.7% |
| Master's Degree | 26.5% |
| Doctoral Degree | 13.0% |
| Post-Baccalaureate Certificate | 5.7% |
| Post-Doctoral Training | 5.4% |
About 57.9% of workers in careers related to bio engineering obtain at least master's degrees. See the chart below for the most common degree level workers in biomedical engineering have received.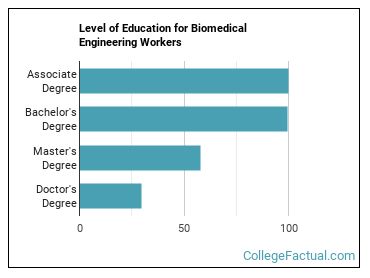 This of course varies depending on which bio engineering career you choose.
Career Opportunities for Bio Engineering Majors
$59.4k
Average Starting Salary
7% Growth
Job Outlook 2016-26
There are many different career paths that you may take with a degree in biomedical engineering. This includes pharmaceuticals, medical devices, artificial organs, prosthetics, medical instrumentation, and medical imaging. You may also choose to go into health management systems. This field is constantly advancing so many students decide to go back to school in order to stay knowledgeable on the latest technology and techniques in their specific field.
This field is growing as the baby-boomer generation ages and there is a demand for new medical devices and procedures. As technology advances, so will the biomedical engineering field, thus creating new areas of work.
Growth Projected for Bio Engineering Careers
Want a job when you graduate with your bio engineering degree? Biomedical Engineering careers are expected to grow 7.4% between 2016 and 2026.
The following options are some of the most in-demand careers related to biomedical engineering.
| Occupation Name | Projected Jobs | Expected Growth |
| --- | --- | --- |
| Architectural and Engineering Managers | 190,000 | 5.5% |
| Engineering Professors | 54,600 | 14.7% |
| Biomedical Engineers | 22,800 | 7.0% |
How Much Money Do People With a Bio Engineering Degree Make?
Biomedical Engineering graduates between 2017-2019 reported earning an average of $59,417 in the 2019-2020 timeframe. Earnings can range from as low as $35,386 to as high as $106,710. As you might expect, salaries for bio engineering graduates vary depending on the level of education that was acquired.
High Paying Careers for Bio Engineering Majors
Salaries for biomedical engineering graduates can vary widely by the occupation you choose as well. The following table shows the top highest paying careers bio engineering grads often go into.
| Occupation Name | Median Average Salary |
| --- | --- |
| Architectural and Engineering Managers | $148,970 |
| Engineering Professors | $113,680 |
| Biomedical Engineers | $95,090 |
Getting Your Biomedical Engineering Degree
With over 537 different bio engineering degree programs to choose from, finding the best fit for you can be a challenge. Fortunately you have come to the right place. We have analyzed all of these schools to come up with hundreds of unbiased bio engineering school rankings to help you with this.
Top Ranking Lists for Biomedical Engineering
Biomedical Engineering Related Majors
Biomedical Engineering is one of 40 different types of Engineering programs to choose from.
Most Popular Related Majors
View All Bio Engineering Related Majors >
References