2022 Mining Engineering Degree Guide
This major allows you to study minerals like coal, metals, and diamonds and how to remove them from the earth safely and in an environmentally friendly way. As a mining engineer you get to help plan and design mines as well as manage them. This program will teach you the science behind mining and minerals. You will also learn about mineral processing and refining methods. Mining engineers usually specialize in one mineral or metal, so you get a broad education and then choose one subject that interests you the most.
Some courses that you may take could include: calculus, geology, chemistry, surveying, physics, soil and rock mechanics, mining, mineral extraction, mineral processing, metallurgy, and engineering.
Mining Engineering Degrees Shrinking in Popularity
-4.1%
Increase in Graduates
In 2020-2021, mining engineering was the 306th most popular major nationwide with 314 degrees awarded. This represents a 4.1% reduction in mining engineering degrees awarded over the prior year's total of 327.
This year's Best Mining Engineering Schools ranking compares 12 of them to identify the best overall programs in the country. Continue reading to check out one of our many unbiased rankings of mining engineering programs later in this article.
Best Mining Engineering Schools by Degree
Requirements for Getting a Degree in Mining Engineering
As a Mining Engineer you may have to make decisions that will affect profits, but more importantly the lives of miners and workers. At school you will learn how to anticipate problems and ways to immediately deal with crucial problems.
You will be using math and science to solve and analyze problem sets. These problems will not be easy, but with persistence and help from your peers and professors you will be able to solve them. Team work is important in this field. College is a great time to refine your communication skills to prepare you for your professional work.
Your professor will expect you to be able to think logically. You should be able to plan mine operations and mineral processing in a logical sequence which will help prepare you for the real world. Writing is also very important to a mining engineer. Your writing needs to be clear and concise so that others able to understand your plans.
Prior Education for a Mining Engineering Program
New students will need to have completed high school or a GED program and each school will have their own minimum GPA and SAT/ACT test requirements. Specific mining engineering careers may require a certain level of degree attainment or additional certifications beyond that.
Mining Engineering Degree Types
There are various different levels of mining engineering degrees. Mining Engineering programs offered by schools range from a to a , which is the highest mining engineering degree you can get. How long it takes to complete some common mining engineering degree levels is shown below.
| Degree | Credit Requirements | Typical Program Length |
| --- | --- | --- |
| Associate Degree | 60-70 credits | 2 years |
| Bachelor's Degree | 120 credits | 4 years |
| Master's Degree | 50-70 credits | 1-3 years |
| Doctorate | Program required coursework including thesis or dissertation | At least 4 years |
A bachelor's degree is the most common level of education achieved by those in careers related to mining engineering, with approximately 45.7% of workers getting one. People currently working in careers related to mining engineering tend obtained the following education levels.
| Level of Education | Percentage of Workers |
| --- | --- |
| Bachelor's Degree | 51.3% |
| Master's Degree | 19.0% |
| Doctoral Degree | 12.0% |
| Post-Baccalaureate Certificate | 9.4% |
| Post-Doctoral Training | 3.6% |
Most workers in mining engineering have at least a bachelor's degree. The chart below shows what degree level those who work in mining engineering have obtained.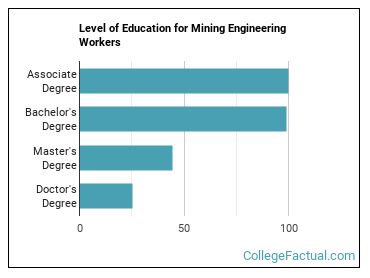 This of course varies depending on which mining engineering career you choose.
Mining Engineering Careers
$69.8k
Average Starting Salary
7% Growth
Job Outlook 2016-26
Mining Engineers find work in several different fields. You could work with geologists and metallurgic engineers to find new mineral deposits. Others are interested in developing new equipment or processing operations.
Growth Projected for Mining Engineering Careers
Want a job when you graduate with your mining engineering degree? Mining Engineering careers are expected to grow 7.4% between 2016 and 2026.
The following options are some of the most in-demand careers related to mining engineering.
| Occupation Name | Projected Jobs | Expected Growth |
| --- | --- | --- |
| Architectural and Engineering Managers | 190,000 | 5.5% |
| Engineering Professors | 54,600 | 14.7% |
| Mining and Geological Engineers | 7,900 | 8.2% |
Mining Engineering Degree Salary Potential
Mining Engineering graduates between 2017-2019 reported earning an average of $69,785 in the 2019-2020 timeframe. Earnings can range from as low as $57,766 to as high as $76,657. As you might expect, salaries for mining engineering graduates vary depending on the level of education that was acquired.
High Paying Careers for Mining Engineering Majors
Salaries for mining engineering graduates can vary widely by the occupation you choose as well. The following table shows the top highest paying careers mining engineering grads often go into.
| Occupation Name | Median Average Salary |
| --- | --- |
| Architectural and Engineering Managers | $148,970 |
| Engineering Professors | $113,680 |
| Mining and Geological Engineers | $98,420 |
Getting Your Mining Engineering Degree
With over 46 different mining engineering degree programs to choose from, finding the best fit for you can be a challenge. Fortunately you have come to the right place. We have analyzed all of these schools to come up with hundreds of unbiased mining engineering school rankings to help you with this.
Top Ranking Lists for Mining Engineering
Mining Engineering Related Majors
Mining Engineering is one of 40 different types of Engineering programs to choose from.
Majors Similar to Mining Engineering
View All Mining Engineering Related Majors >
References