by our College
Data Analytics Team
 Unbiased
Factual Guarantee
2023 Romance Languages Degree Guide
Western and Southern European countries are full of fruitful culture and passionate languages. These regions are well known for their beautiful languages that roll off the tongue, producing wonderful poetry, songs and literature. A major in Romantic Languages allows you to focus on the various dialects of the Southern and Western countries of Europe, and other regions. In addition to learning about the languages, you will be instructed in the philology, art, applications in business, and science/ technology.
There are many concentrations within this major; they include French, Italian, Portuguese, Spanish, Romanian, Catalan, and Hispanic and Latin American Languages. While majoring in this field, you will be taking classes in Beginner, Intermediate, and advanced language course, Introduction to the Renaissance, Language History Culture, Caribbean Poetry and Cinema, and History of Literary Theory.
Romance Languages Degrees Decreasing
-6.0%
Increase in Graduates
Romance Languages was the 65th most popular major in the 2020-2021 school year. Colleges in the United States reported awarding 15,009 degrees in this year alone. This represents a 6.0% reduction in romance languages degrees awarded over the prior year's total of 15,905.
This year's Best Romance Languages Schools ranking compares 217 of them to identify the best overall programs in the country. Continue reading to check out one of our many unbiased rankings of romance languages programs later in this article.
Best Romance Languages Schools by Degree
What Are The Requirements For a Degree in Romance Languages
An ear for languages and attention to detail will be helpful to learn these languages. Students must have patience and persistence to master the correct enunciation and pronunciation of a foreign language. This major focuses heavily in arts and history, so students should have a passion for those subjects.
In order to prepare for this major, it is advised to take prior language classes while still in High School. Students can also prepare themselves by taking European History, European Art, and English. It is recommended to take advantage of any study abroad programs available at your University.
Prior Education for a Romance Languages Program
romance languages degree applicants generally need have finished high school or their GED. Many schools may also have GPA and SAT/ACT score minimums that must be met. In addition to these basic romance languages program qualifications, to serve in some romance languages careers, special certification may be required outside of your degree.
Romance Languages Degree Types
There are many different romance languages degree levels. You can get anything from a in romance languages to the highest romance languages degree, a . Depending on the romance languages degree you choose, obtaining your diploma can take anwhere from 1 to 4+ years.
| Degree | Credit Requirements | Typical Program Length |
| --- | --- | --- |
| Associate Degree | 60-70 credits | 2 years |
| Bachelor's Degree | 120 credits | 4 years |
| Master's Degree | 50-70 credits | 1-3 years |
| Doctorate | Program required coursework including thesis or dissertation | At least 4 years |
A bachelor's degree is the most common level of education achieved by those in careers related to romance languages, with approximately 37.8% of workers getting one. See the the most common levels of education for romance languages workers below.
| Level of Education | Percentage of Workers |
| --- | --- |
| Bachelor's Degree | 41.2% |
| Master's Degree | 23.0% |
| Doctoral Degree | 21.5% |
| Post-Baccalaureate Certificate | 7.2% |
| Post-Master's Certificate | 4.3% |
52.8% of romance languages workers have at least a master's. View the chart below to get an idea of what degree level most of those in romance languages careers have.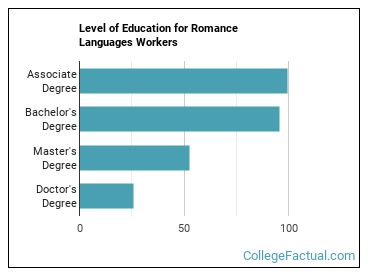 This of course varies depending on which romance languages career you choose.
Career Opportunities for A Degree In Romance Languages Graduate
Above Average
Number of Jobs
$31.5k
Average Starting Salary
8% Growth
Job Outlook 2016-26
Graduates who major in the Romance Languages receive a broad education preparing them for a variety of careers. Many students become foreign language teachers in grades from Kindergarten to High School or adult Education. You are also well prepared to teach literature or art. You may have to obtain a Master's Degree for some teaching positions.
This could be a great major for anyone who wants to travel in their job. You may find a job working abroad, or work for the U.S. government as a Foreign Service Officer. Other jobs include working as an interpreter or translator.
Solid Growth Projected for Romance Languages Careers
Want a job when you graduate with your romance languages degree? Romance Languages careers are expected to grow 8.3% between 2016 and 2026.
The following options are some of the most in-demand careers related to romance languages.
| Occupation Name | Projected Jobs | Expected Growth |
| --- | --- | --- |
| High School Teachers | 1,095,500 | 7.5% |
| Interpreters and Translators | 80,300 | 17.7% |
| Foreign Language and Literature Professors | 39,100 | 11.7% |
Romance Languages Degree Salary Potential
Romance Languages graduates between 2017-2019 reported earning an average of $31,490 in the 2019-2020 timeframe. Earnings can range from as low as $14,402 to as high as $57,077. As you might expect, salaries for romance languages graduates vary depending on the level of education that was acquired.
High Paying Careers for Romance Languages Majors
Salaries for romance languages graduates can vary widely by the occupation you choose as well. The following table shows the top highest paying careers romance languages grads often go into.
| Occupation Name | Median Average Salary |
| --- | --- |
| Foreign Language and Literature Professors | $79,160 |
| High School Teachers | $64,340 |
| Interpreters and Translators | $55,230 |
Getting Your Romance Languages Degree
With over 3,250 different romance languages degree programs to choose from, finding the best fit for you can be a challenge. Fortunately you have come to the right place. We have analyzed all of these schools to come up with hundreds of unbiased romance languages school rankings to help you with this.
Top Ranking Lists for Romance Languages
Romance Languages is one of 17 different types of Foreign Languages & Linguistics programs to choose from.
Romance Languages Focus Areas
Popular Reports
College Rankings

Ranking Types

Athletes

Students From
Best by Location
Degree Guides by Major

Fields of Study

Popular Majors

Popular Majors
Graduate Programs

By Degree Level Popular Programs
Compare Your School Options