by our College
Data Analytics Team
 Unbiased
Factual Guarantee
2023 Information Technology Degree Guide
If you are interested in customizing networks to aid the business world, Information Technology might be a good major for you.
Those who major in information technology learn about maintaining operating systems, designing networks, and customizing programs for business needs. Professionals also work to guide projects from conception through testing and finalization to ensure they are within budget and running smoothly. You will take classes in computer science, mathematics, computer programming, information storage management, and computer networks along with classes in business, management, risk management, and financial analysis to learn how information technology aids business.
Along with the option to major in general Information Technology, you have the option to specialize in areas, such as Network and System Administration, LAN/WAN Management, Computer and IS Security, Web/Multimedia Management and Webmaster, Information Technology Project Management or Computer Support Specialist.
A Recent Jump in Information Technology Degrees
3.9%
Increase in Graduates
Information Technology was the 42nd most popular major in the 2020-2021 school year. Colleges in the United States reported awarding 40,555 degrees in this year alone. This is a difference of 1,597 over the prior year, a growth of 3.9%.
Our 2023 Best Information Technology Schools ranking analyzes 362 of these schools to determine the best overall colleges for information technology students. Explore this or one of our many other custom IT rankings further below.
Best Information Technology Schools by Degree
Featured Information Technology Programs
Learn about start dates, transferring credits, availability of financial aid, and more by contacting the universities below.
To stay competitive in today's information technology world, employees need to have training that goes beyond traditional computer programming and IT expertise.
AS in Information Technologies
Gain the specialized knowledge and critical-thinking skills required to begin a career in tech with this online associate degree from Southern New Hampshire University.
BA in Information Technologies
Gain a well-rounded education while preparing for a career in IT with this online bachelor's from Southern New Hampshire University.
Requirements for Getting a Degree in Information Technology
Those who work within Information Technology should be comfortable both working by themselves on projects, or working on a team. You should also be well acquainted with computer systems and have a background in applied mathematics. Problem solving, multitasking, and creativity are other skills that allow professionals to create and improve technology to ensure it fits business and individual needs.
Most jobs in Information Technology will be in an office environment. Because many companies rely heavily on their computer networks to conduct businesses, professionals should be prepared to work overtime to ensure the proper function, fix any issues, and maintain the security of systems.
A summer job or internship in the field is recommended. This will provide you valuable exposure to computer programs and systems. This experience will also allow students to work alongside Information Technology professionals in building custom programs, wiring networks, and installing security features.
Getting Accepted Into an Information Technology Program
A high school diploma or equivalent is typically required for most IT degree programs and many students will need a minimum GPA and SAT/ACT score depending on the school. Specific IT careers may require a certain level of degree attainment or additional certifications beyond that.
Information Technology Degree Types
There are many different IT degree levels. You can get anything from a in information technology to the highest IT degree, a . Information Technology programs can take anywhere between one to four or more years for a full-time student to complete.
| Degree | Credit Requirements | Typical Program Length |
| --- | --- | --- |
| Associate Degree | 60-70 credits | 2 years |
| Bachelor's Degree | 120 credits | 4 years |
| Master's Degree | 50-70 credits | 1-3 years |
| Doctorate | Program required coursework including thesis or dissertation | At least 4 years |
A bachelor's degree is the most common level of education achieved by those in careers related to IT, with approximately 54.2% of workers getting one. Find out other typical degree levels for IT workers below.
| Level of Education | Percentage of Workers |
| --- | --- |
| Bachelor's Degree | 53.2% |
| Associate's Degree (or other 2-year degree) | 12.0% |
| Master's Degree | 9.8% |
| Post-Secondary Certificate | 8.3% |
| Some College Courses | 6.2% |
72.2% of IT workers have at least a bachelor's. The chart below shows what degree level those who work in information technology have obtained.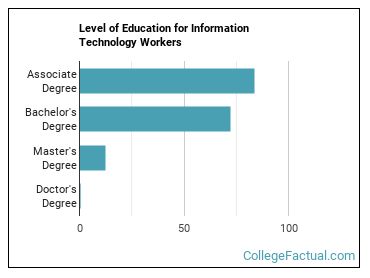 The education level required is different depending on the IT career you are seeking.
IT Careers
Above Average
Number of Jobs
$46.4k
Average Starting Salary
10% Growth
Job Outlook 2016-26
A degree in Information Technology makes graduates ideal for any career working with computer networks, programs, and software. Areas that some graduates currently work in include financial firms, banks, government organizations, computer design firms, and in the IT department of large corporations. Since many businesses are working towards incorporating quicker networks and newer technology, graduates are employed in a variety of occupations. Although most employees require a bachelor's degree, in some cases, an associate's degree with experience in the field is acceptable. However, most businesses require administrators have their master's.
Solid Growth Projected for IT Careers
Want a job when you graduate with your IT degree? Information Technology careers are expected to grow 9.9% between 2016 and 2026.
The following options are some of the most in-demand careers related to information technology.
| Occupation Name | Projected Jobs | Expected Growth |
| --- | --- | --- |
| Managers | 1,071,700 | 8.0% |
| Computer User Support Specialists | 708,700 | 11.3% |
| Network and Computer Systems Administrators | 415,300 | 6.1% |
| Computer and Information Systems Managers | 411,800 | 12.0% |
| Computer Workers | 313,800 | 9.3% |
How Much Money Do IT Grads Make?
Information Technology graduates between 2017-2019 reported earning an average of $46,414 in the 2019-2020 timeframe. Earnings can range from as low as $13,253 to as high as $124,697. As you might expect, salaries for IT graduates vary depending on the level of education that was acquired.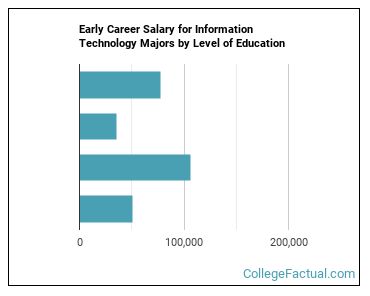 High Paying Careers for IT Majors
Salaries for information technology graduates can vary widely by the occupation you choose as well. The following table shows the top highest paying careers IT grads often go into.
| Occupation Name | Median Average Salary |
| --- | --- |
| Computer and Information Systems Managers | $152,860 |
| Managers | $115,590 |
| Computer Network Architects | $111,130 |
| Information Security Analysts | $102,470 |
| Computer Workers | $93,350 |
Getting Your Information Technology Degree
With over 2,889 different IT degree programs to choose from, finding the best fit for you can be a challenge. Fortunately you have come to the right place. We have analyzed all of these schools to come up with hundreds of unbiased IT school rankings to help you with this.
Top Ranking Lists for Information Technology
Related Programs
Learn about other programs related to Information Technology that might interest you.
BS in Information Technologies
Build the digital know-how required to become a leader in technology with this online bachelor's from Southern New Hampshire University.
One of 10 majors within the Computer & Information Sciences area of study, Information Technology has other similar majors worth exploring.
IT Concentrations
Popular Reports
College Rankings

Ranking Types

Athletes

Students From
Best by Location
Degree Guides by Major

Fields of Study

Popular Majors

Popular Majors
Graduate Programs

By Degree Level Popular Programs
Compare Your School Options