by our College
Data Analytics Team
 Unbiased
Factual Guarantee
2023 Social Work Degree Guide
Social Work is a major that allows you to work with and respond to people in need. This can be a very difficult but fulfilling job as you have the opportunity to help people with many issues and problems. Your clients will include those who suffer from substance abuse, racial inequalities, poverty, homelessness, or many other problems. You should be an open and understanding person when encountering diverse people and situations.
Students take a variety of classes focused on the subject of human behavior and social issues in families and groups as well as individuals. Examples of the classes you will take are alcohol and drug addiction, behavior and social environment, child welfare, gender issues, human diversity, and social welfare policy. Students sometimes have the opportunity to choose a concentration in Youth Services, which focuses more on helping children and adolescents.
An Increase in Social Work Degrees
1.2%
Increase in Graduates
In 2020-2021, social work was the 13th most popular major nationwide with 58,326 degrees awarded. This represents a 1.2% increase in social work degrees awarded over the prior year's total of 57,618.
Our 2023 Best Social Work Schools ranking analyzes 445 of these schools to determine the best overall colleges for social work students. Continue reading to check out one of our many unbiased rankings of social work programs later in this article.
Best Social Work Schools by Degree
Featured Social Work Programs
Learn about start dates, transferring credits, availability of financial aid, and more by contacting the universities below.
Improve the lives of individuals, families and communities with the human service tools gained from this online bachelor's from Southern New Hampshire University.
What Are The Requirements For a Degree in Social Work
The most successful students in the field of social work are outgoing and confident. This field is very hands-on and involves constant people-interaction. Many of the people you work with are in stressful situations and need an empathetic person to help them. Sometimes the best way to help is simply to provide a listening and compassionate ear.
Organizational skills will help you manage classes in a variety of subjects. Practice time management in college in order to help you in a career managing multiple clients and completing paperwork. You will learn many theories and approaches to helping people and have the opportunity to apply those theories to come up with practical solutions to problems.
Many colleges have the opportunity for students to complete an internship or participate in field work. This will give you invaluable experience for your career as a social worker.
Getting Accepted Into a Social Work Program
New students will need to have completed high school or a GED program and each school will have their own minimum GPA and SAT/ACT test requirements. In addition to these basic social work program qualifications, to serve in some social work careers, special certification may be required outside of your degree.
Types of Social Work Degrees
There are various different levels of social work degrees. You can spend many years getting as high as a in social work to something that takes less time like a . Social Work programs can take anywhere between one to four or more years for a full-time student to complete.
| Degree | Credit Requirements | Typical Program Length |
| --- | --- | --- |
| Associate Degree | 60-70 credits | 2 years |
| Bachelor's Degree | 120 credits | 4 years |
| Master's Degree | 50-70 credits | 1-3 years |
| Doctorate | Program required coursework including thesis or dissertation | At least 4 years |
A master's degree is the most common level of education achieved by those in careers related to social work, with approximately 41.1% of workers getting one. People currently working in careers related to social work tend obtained the following education levels.
| Level of Education | Percentage of Workers |
| --- | --- |
| Master's Degree | 39.3% |
| Bachelor's Degree | 36.1% |
| Post-Master's Certificate | 8.4% |
| Doctoral Degree | 7.2% |
| Associate's Degree (or other 2-year degree) | 2.4% |
Most workers in social work have at least a master's degree. View the chart below to get an idea of what degree level most of those in social work careers have.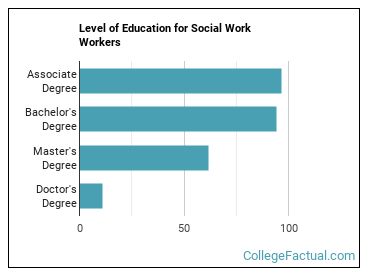 The education level required is different depending on the social work career you are seeking.
Career Opportunities for A Degree In Social Work Graduate
$37.6k
Average Starting Salary
16% Growth
Job Outlook 2016-26
There are several different fields you can choose from. Those who work in family, school, and child social work often help place children in foster care and investigate child abuse cases. Healthcare social work is another quickly growing field which involves working with aging populations. You can also choose to work in mental health and substance abuse helping clients get treatment instead of going to jail.
High Growth Projected for Social Work Careers
Want a job when you graduate with your social work degree? Social Work careers are expected to grow 15.6% between 2016 and 2026.
The following options are some of the most in-demand careers related to social work.
| Occupation Name | Projected Jobs | Expected Growth |
| --- | --- | --- |
| Child, Family, and School Social Workers | 362,600 | 14.2% |
| Healthcare Social Workers | 212,000 | 20.1% |
| Social and Community Service Managers | 173,800 | 18.0% |
| Substance Abuse Social Workers | 147,900 | 19.4% |
| Probation Officers and Correctional Treatment Specialists | 96,500 | 5.7% |
How Much Money Do Social Work Grads Make?
Social Work graduates between 2017-2019 reported earning an average of $37,627 in the 2019-2020 timeframe. Earnings can range from as low as $10,077 to as high as $84,282. As you might expect, salaries for social work graduates vary depending on the level of education that was acquired.
Highest Paid Social Work Careers
Salaries for social work graduates can vary widely by the occupation you choose as well. The following table shows the top highest paying careers social work grads often go into.
| Occupation Name | Median Average Salary |
| --- | --- |
| Social Work Professors | $77,520 |
| Social and Community Service Managers | $71,670 |
| Social Workers | $62,660 |
| Probation Officers and Correctional Treatment Specialists | $58,790 |
| Healthcare Social Workers | $58,470 |
Getting Your Social Work Degree
With over 1,439 different social work degree programs to choose from, finding the best fit for you can be a challenge. Fortunately you have come to the right place. We have analyzed all of these schools to come up with hundreds of unbiased social work school rankings to help you with this.
Top Ranking Lists for Social Work
Related Programs
Learn about other programs related to Social Work that might interest you.
Learn to analyze social factors and become an advocate for individual and community health with this online bachelor's from Southern New Hampshire University.
Study Areas in Social Work
One of 5 majors within the Public Administration & Social Service area of study, Social Work has other similar majors worth exploring.
Social Work Focus Areas
Popular Reports
College Rankings

Ranking Types

Athletes

Students From
Best by Location
Degree Guides by Major

Fields of Study

Popular Majors

Popular Majors
Graduate Programs

By Degree Level Popular Programs
Compare Your School Options