2022 Engineering Physics Degree Guide
A major of Engineering Physics focuses on the use of physics when analyzing and evaluating engineering problems. You will learn computational physics, superconductivity, applied thermodynamics, how materials react in high and low temperature, and space science research. By blending physics and engineering you will learn how these areas support and interact with each other. This knowledge will allow you to become a master problem solver.
Courses you may across in engineering physics include: physics, calculus, statistics, strength of material, chemistry of materials, algebra, chemistry, thermodynamics, fluid dynamics, and electricity and magnetism.
A Spike in Engineering Physics Degrees
5.3%
Increase in Graduates
In 2020-2021, engineering physics was the 244th most popular major nationwide with 994 degrees awarded. This represents a 5.3% increase in engineering physics degrees awarded over the prior year's total of 941.
This year's Best Engineering Physics Schools ranking compares 49 of them to identify the best overall programs in the country. Explore this or one of our many other custom engineering physics rankings further below.
Best Engineering Physics Schools by Degree
What Are The Requirements For a Degree in Engineering Physics
Studying physics and engineering is a challenge reserved for the boldest and brightest of students. Be prepared to work hard in your classes and don't be intimidated to ask for help from either your classmates or your professors. All your hard work will pay off as you will get to engage in fascinating research ranging from topics such as space science, thermodynamics or nuclear engineering.
As a student you will get to practice and learn how to use high tech equipment in the lab. Through experiments and research you will be prepared to create engineering solutions through your enhanced understanding of the both physics and engineering. You should also be prepared to work on your communication skills so that you can clearly articulate your findings.
Prior Education for an Engineering Physics Program
New students will need to have completed high school or a GED program and each school will have their own minimum GPA and SAT/ACT test requirements. Once you obtain your degree, additional engineering physics certifications required to pursue a career in this field.
Engineering Physics Degree Types
There are various different levels of engineering physics degrees. You can spend many years getting as high as a in engineering physics to something that takes less time like a . The type of engineering physics degree you choose will determine how long it takes to get your diploma.
| Degree | Credit Requirements | Typical Program Length |
| --- | --- | --- |
| Associate Degree | 60-70 credits | 2 years |
| Bachelor's Degree | 120 credits | 4 years |
| Master's Degree | 50-70 credits | 1-3 years |
| Doctorate | Program required coursework including thesis or dissertation | At least 4 years |
A bachelor's degree is the most common level of education achieved by those in careers related to engineering physics, with approximately 38.4% of workers getting one. Find out other typical degree levels for engineering physics workers below.
| Level of Education | Percentage of Workers |
| --- | --- |
| Bachelor's Degree | 41.0% |
| Master's Degree | 24.2% |
| Doctoral Degree | 16.9% |
| Post-Doctoral Training | 7.1% |
| Post-Baccalaureate Certificate | 4.3% |
55.8% of engineering physics workers have at least a master's. See the chart below for the most common degree level workers in engineering physics have received.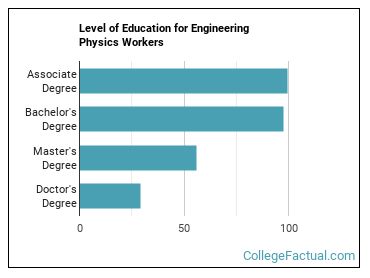 This of course varies depending on which engineering physics career you choose.
Career Opportunities for A Degree In Engineering Physics Graduate
$53.9k
Average Starting Salary
8% Growth
Job Outlook 2016-26
You have many careers you could pursue with an engineering physics degree. You could get a position in research or development at a high technology industry or you could find a job in a national laboratory or at a university. If you continue on in education you could land a job as a staff engineer, a scientist, or even a technical director. You could also earn your master's degree in business, law, or go to medical school. This degree is flexible and the skills you learn during undergrad can be applied to many different topics.
Growth Projected for Engineering Physics Careers
Want a job when you graduate with your engineering physics degree? Engineering Physics careers are expected to grow 7.7% between 2016 and 2026.
The following options are some of the most in-demand careers related to engineering physics.
| Occupation Name | Projected Jobs | Expected Growth |
| --- | --- | --- |
| Architectural and Engineering Managers | 190,000 | 5.5% |
| Engineers | 141,000 | 6.4% |
| Natural Sciences Managers | 62,300 | 9.9% |
| Engineering Professors | 54,600 | 14.7% |
| Physicists | 20,500 | 14.5% |
How Much Money Do People With a Engineering Physics Degree Make?
Engineering Physics graduates between 2017-2019 reported earning an average of $53,863 in the 2019-2020 timeframe. Earnings can range from as low as $43,721 to as high as $62,238. As you might expect, salaries for engineering physics graduates vary depending on the level of education that was acquired.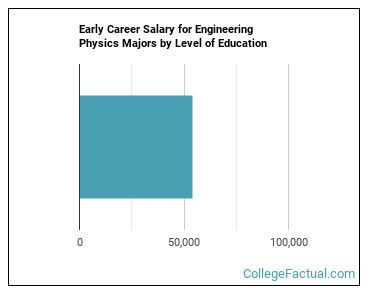 High Paying Careers for Engineering Physics Majors
Salaries for engineering physics graduates can vary widely by the occupation you choose as well. The following table shows the top highest paying careers engineering physics grads often go into.
| Occupation Name | Median Average Salary |
| --- | --- |
| Architectural and Engineering Managers | $148,970 |
| Natural Sciences Managers | $139,680 |
| Physicists | $125,280 |
| Engineering Professors | $113,680 |
| Engineers | $99,410 |
Getting Your Engineering Physics Degree
With over 182 different engineering physics degree programs to choose from, finding the best fit for you can be a challenge. Fortunately you have come to the right place. We have analyzed all of these schools to come up with hundreds of unbiased engineering physics school rankings to help you with this.
Top Ranking Lists for Engineering Physics
Engineering Physics Related Majors
Engineering Physics is one of 40 different types of Engineering programs to choose from.
Most Popular Majors Related to Engineering Physics
View All Engineering Physics Related Majors >
References