2022 General Social Sciences Degree Guide
General Social Sciences is multidisciplinary, liberal arts major that provides a broad understanding of the world we live in. Classes involve the exploration of the intellectual, social, and cultural world.
Areas of study will include psychology, sociology, gerontology, anthropology behavioral science, history, statistics, and economics. You will also learn about how to design research, measure variables, analyze formulas, and formulate models. Students may have the opportunity to choose a concentration in Research Methodology and Quantitative Methods.
General Social Sciences Degrees Remain Stable
1.0%
Increase in Graduates
General Social Sciences was the 51st most popular major in the 2019-2020 school year. Colleges in the United States reported awarding 19,742 degrees in this year alone. This represents a small change of only 1.0% from the prior year's total of 19,551 social sciences degrees awarded.
Approximately 500 colleges in the U.S. offer a general social sciences degree of some kind. This year's Best General Social Sciences Schools ranking compares 199 of them to identify the best overall programs in the country. Continue reading to check out one of our many unbiased rankings of social sciences programs later in this article.
Best General Social Sciences Schools by Degree
Featured General Social Sciences Programs
Learn about start dates, transferring credits, availability of financial aid, and more by contacting the universities below.
Visit Site
BA in Sociology

Learn to analyze social factors and become an advocate for individual and community health with this online bachelor's from Southern New Hampshire University. Learn More >
What Are The Requirements For a Degree in General Social Sciences
Because the classes in this major pull from many different subjects, students should be flexible and have the ability to make connections across subjects. Time management and organization will help you complete assignments and projects by their deadlines. Communication skills are essential in this major. You will spend a lot of time writing papers, giving presentations and participating in class discussions.
Creativity and the ability to think up new answers to old problems is important. Be ready to take non-traditional paths to find an answer. Critical judgment and analytical skills will be important as you work in labs and research. You need to be able to use and understand the data you find and make conclusions about it.
Getting Accepted Into a General Social Sciences Program
New students will need to have completed high school or a GED program and each school will have their own minimum GPA and SAT/ACT test requirements. Once you obtain your degree, additional social sciences certifications required to pursue a career in this field.
Types of General Social Sciences Degrees
Social Sciences degree levels vary. You can get anything from a in general social sciences to the highest social sciences degree, a . General Social Sciences programs can take anywhere between one to four or more years for a full-time student to complete.
| Degree | Credit Requirements | Typical Program Length |
| --- | --- | --- |
| Associate Degree | 60-70 credits | 2 years |
| Bachelor's Degree | 120 credits | 4 years |
| Master's Degree | 50-70 credits | 1-3 years |
| Doctorate | Program required coursework including thesis or dissertation | At least 4 years |
A bachelor's degree is the most common level of education achieved by those in careers related to social sciences, with approximately 50.7% of workers getting one. Find out other typical degree levels for social sciences workers below.
| Level of Education | Percentage of Workers |
| --- | --- |
| Bachelor's Degree | 51.6% |
| Master's Degree | 29.6% |
| Doctoral Degree | 7.7% |
| Post-Baccalaureate Certificate | 3.3% |
| Associate's Degree (or other 2-year degree) | 2.7% |
About 93.9% of workers in careers related to social sciences obtain at least bachelor's degrees. The chart below shows what degree level those who work in general social sciences have obtained.
This of course varies depending on which social sciences career you choose.
Career Opportunities for Social Sciences Majors
Above Average
Number of Jobs
$31.7k
Average Starting Salary
8% Growth
Job Outlook 2016-26
A degree in Social Sciences will lead you to many different career paths. The skills, interests, and values you gain while in college will prepare you to work in careers where social sciences issues are important. You will be prepared to work in government, health services, law enforcement, business administration, elder care, community service, and human resources. You will also be able to easily transfer your skills to graduate studies in the social sciences, or even programs in law, business, or counseling.
Solid Growth Projected for Social Sciences Careers
Want a job when you graduate with your social sciences degree? General Social Sciences careers are expected to grow 8.1% between 2016 and 2026.
The following options are some of the most in-demand careers related to general social sciences.
| Occupation Name | Projected Jobs | Expected Growth |
| --- | --- | --- |
| High School Teachers | 1,095,500 | 7.5% |
| Managers | 1,071,700 | 8.0% |
| Statisticians | 49,800 | 33.9% |
| Social Scientists | 44,900 | 6.7% |
| Social Science Research Assistants | 35,500 | 4.4% |
How Much Money Do People With a Social Sciences Degree Make?
General Social Sciences graduates between 2015-2017 reported earning an average of $31,665 in the 2017-2018 timeframe. Earnings can range from as low as $19,500 to as high as $57,800. As you might expect, salaries for social sciences graduates vary depending on the level of education that was acquired.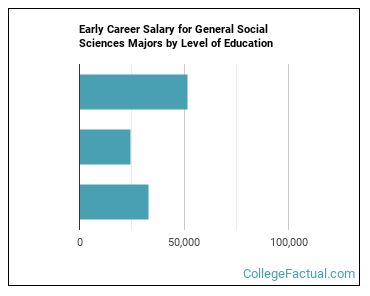 Highest Paid Social Sciences Careers
Salaries for general social sciences graduates can vary widely by the occupation you choose as well. The following table shows the top highest paying careers social sciences grads often go into.
| Occupation Name | Median Average Salary |
| --- | --- |
| Managers | $115,590 |
| Statisticians | $92,600 |
| Sociologists | $90,290 |
| Social Sciences Professors | $87,950 |
| Social Scientists | $85,750 |
Getting Your General Social Sciences Degree
With over 673 different social sciences degree programs to choose from, finding the best fit for you can be a challenge. Fortunately you have come to the right place. We have analyzed all of these schools to come up with hundreds of unbiased social sciences school rankings to help you with this.
Study Areas in General Social Sciences
One of 12 majors within the Social Sciences area of study, General Social Sciences has other similar majors worth exploring.
Social Sciences Focus Areas
View All Social Sciences Focus Areas >
Most Popular Majors Related to Social Sciences
View All Social Sciences Related Majors >
References
Featured
Political and Social Sciences

Schools
Request Info
Southern New Hampshire University

You have goals. Southern New Hampshire University can help you get there. Whether you need a bachelor's degree to get into a career or want a master's degree to move up in your current career, SNHU has an online program for you. Find your degree from over 200 online programs ... Learn More >