by our College
Data Analytics Team
 Unbiased
Factual Guarantee
2023 Public Administration Degree Guide
While in school, you were the treasurer of student council, editor of the school's newspaper, or class president; always acting as a catalyst for change. So, what's next for you? A Public Administration degree will prepare you for running the executive arm of local, state, and federal government - allowing you to create policies that will bring positive change.
Business principles as well as politics are important in a Public Administration program. Classroom lectures will infuse business lessons into public administration curriculum, with instruction focusing on: the management of public policy, public budgetary processes and financial management, public personnel management, professional ethics, administrative law, and research methods. Your program may even offer the option to specialize in urban studies, criminal justice, or public opinion.
Public Administration Degrees Decreasing
-2.2%
Increase in Graduates
Public Administration was the 60th most popular major in the 2020-2021 school year. Colleges in the United States reported awarding 16,905 degrees in this year alone. This 364 less than the prior year, a decrease of 2.2%.
Our 2023 Best Public Administration Schools ranking analyzes 283 of these schools to determine the best overall colleges for public administration students. Explore this or one of our many other custom public admin rankings further below.
Best Public Administration Schools by Degree
Featured Public Administration Programs
Learn about start dates, transferring credits, availability of financial aid, and more by contacting the universities below.
Visit Site
Fit new strategic skills into your public service passion and goals when you earn an MBA in Public Administration from Southern New Hampshire University.
Visit Site
Requirements for Getting a Degree in Public Administration
Students in this program should have a passion for creating positive change for communities. Communication, teamwork, and policy development skills are crucial to creating change in the public sector. Public administrators often have to find common ground for a diverse group that are on opposite sides of an issue, so the ability to see all sides of an issue is also extremely helpful.
No matter what type of job you take in public administration, you will be expected to have a good understanding of the government and a knack for business. Analytical and research skills will be invaluable as you move forward with your career in public administration. Problem solving will become your specialty, as you discuss ways to fix society's most urgent issues.
Getting Accepted Into a Public Administration Program
public administration degree applicants generally need have finished high school or their GED. Many schools may also have GPA and SAT/ACT score minimums that must be met. Once you obtain your degree, additional public admin certifications required to pursue a career in this field.
Types of Public Administration Degrees
There are many different public admin degree levels. Public Administration programs offered by schools range from a to a , which is the highest public admin degree you can get. Public Administration programs can take anywhere between one to four or more years for a full-time student to complete.
| Degree | Credit Requirements | Typical Program Length |
| --- | --- | --- |
| Associate Degree | 60-70 credits | 2 years |
| Bachelor's Degree | 120 credits | 4 years |
| Master's Degree | 50-70 credits | 1-3 years |
| Doctorate | Program required coursework including thesis or dissertation | At least 4 years |
A bachelor's degree is the most common level of education achieved by those in careers related to public admin, with approximately 45.3% of workers getting one. Find out other typical degree levels for public admin workers below.
| Level of Education | Percentage of Workers |
| --- | --- |
| Bachelor's Degree | 43.4% |
| Master's Degree | 15.4% |
| High School Diploma | 14.5% |
| Associate's Degree (or other 2-year degree) | 7.9% |
| Some College Courses | 5.9% |
73.1% of public admin workers have at least a bachelor's. See the chart below for the most common degree level workers in public administration have received.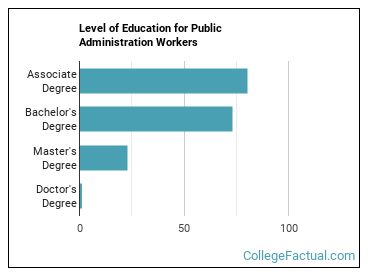 This of course varies depending on which public admin career you choose.
Career Opportunities for A Degree In Public Admin Graduate
Above Average
Number of Jobs
$51.4k
Average Starting Salary
8% Growth
Job Outlook 2016-26
A career in public administration encompasses a wide range of interests in federal, state, and local government, advocacy groups, and non-profit organizations. Graduates find jobs as administrative officers of a municipality, policy analysts, city or county managers, safety inspectors, criminal or private investigators, custom or border guard inspectors, and labor management relations specialists. At the government level, you can work for the Environmental Protection Agency, the Equal Employment Opportunity Commission, or the Nuclear Regulatory Commission.
Growth Projected for Public Admin Careers
Want a job when you graduate with your public admin degree? Public Administration careers are expected to grow 7.9% between 2016 and 2026.
The following options are some of the most in-demand careers related to public administration.
| Occupation Name | Projected Jobs | Expected Growth |
| --- | --- | --- |
| General and Operations Managers | 2,468,300 | 9.1% |
| Managers | 1,071,700 | 8.0% |
| Chief Executives | 296,800 | -3.9% |
| Social and Community Service Managers | 173,800 | 18.0% |
| Transportation, Storage, and Distribution Managers | 123,300 | 6.8% |
Public Admin Degree Salary Potential
Public Administration graduates between 2017-2019 reported earning an average of $51,367 in the 2019-2020 timeframe. Earnings can range from as low as $22,841 to as high as $100,971. As you might expect, salaries for public admin graduates vary depending on the level of education that was acquired.
Highest Paid Public Admin Careers
Salaries for public administration graduates can vary widely by the occupation you choose as well. The following table shows the top highest paying careers public admin grads often go into.
| Occupation Name | Median Average Salary |
| --- | --- |
| Chief Executives | $200,140 |
| General and Operations Managers | $123,880 |
| Managers | $115,590 |
| Transportation, Storage, and Distribution Managers | $102,850 |
| Postmasters and Mail Superintendents | $77,040 |
Getting Your Public Administration Degree
With over 816 different public admin degree programs to choose from, finding the best fit for you can be a challenge. Fortunately you have come to the right place. We have analyzed all of these schools to come up with hundreds of unbiased public admin school rankings to help you with this.
Top Ranking Lists for Public Administration
Public Administration is one of 5 different types of Public Administration & Social Service programs to choose from.
Public Admin Concentrations
Popular Reports
College Rankings

Ranking Types

Athletes

Students From
Best by Location
Degree Guides by Major

Fields of Study

Popular Majors

Popular Majors
Graduate Programs

By Degree Level Popular Programs
Compare Your School Options