by our College
Data Analytics Team
 Unbiased
Factual Guarantee
2023 Fine & Studio Arts Degree Guide
If you enjoy creating masterpieces and believe it is the best way to express yourself, you may be a Fine and Studio Arts major.
Majoring in Fine and Studio Arts allows students to take classes in the many disciplines within the field including painting, sculpting, art history, drawing, photography, painting, illustration, graphic design, and digital media. The variety of classes allows you to try different art mediums in order to find what you are most interested in. These classes will also improve your technique and teach you express yourself.
Fine and Studio Arts is a field with many areas of specialization. You may choose to concentrate in more specific areas such as Art History, Drawing, Multimedia, Painting, Sculpture, Printmaking, Ceramic Arts and Ceramics, Fiber, Textile and Weaving Arts, and Metal and Jewelry.
Fine & Studio Arts Degrees Remain Popular
-6.5%
Increase in Graduates
In 2020-2021, fine and studio arts was the 31st most popular major nationwide with 37,413 degrees awarded. This 2,447 less than the prior year, a decrease of 6.5%.
Our 2023 Best Fine & Studio Arts Schools ranking analyzes 534 of these schools to determine the best overall colleges for fine and studio arts students. Continue reading to check out one of our many unbiased rankings of Fine Arts programs later in this article.
Best Fine & Studio Arts Schools by Degree
Requirements for Getting a Degree in Fine & Studio Arts
Students in the fine arts field usually have some amount of natural talent and experience working in one or more artistic mediums. They have passion for art and enjoy working with their hands to create things. Their creativity and imagination allows them to form unique pieces of art that express the emotion of the artist. Students in this field have good interpersonal and communication skills because they will be required to speak with gallery owners and the general public to sell their artwork.
This field can lead to either a part or full time job. Those who work full time are typically employed in commercial art studios or with performing arts centers, while other artists are self-employed or are commissioned by clients to create pieces.
Depending on the area of study to wish to follow, a college degree may not be necessary. Some artists only take a few classes to improve skills and techniques, while others need a degree to be hired. By working in and internship or summer job, you will learn what type of education you need for a successful career.
Fine Arts Degree Program Entry Requirements
A high school diploma or equivalent is typically required for most Fine Arts degree programs and many students will need a minimum GPA and SAT/ACT score depending on the school. Specific Fine Arts careers may require a certain level of degree attainment or additional certifications beyond that.
Fine & Studio Arts Degree Types
There are various different levels of Fine Arts degrees. Fine & Studio Arts programs offered by schools range from a to a , which is the highest Fine Arts degree you can get. The type of Fine Arts degree you choose will determine how long it takes to get your diploma.
| Degree | Credit Requirements | Typical Program Length |
| --- | --- | --- |
| Associate Degree | 60-70 credits | 2 years |
| Bachelor's Degree | 120 credits | 4 years |
| Master's Degree | 50-70 credits | 1-3 years |
| Doctorate | Program required coursework including thesis or dissertation | At least 4 years |
A bachelor's degree is the most common level of education achieved by those in careers related to Fine Arts, with approximately 25.7% of workers getting one. People currently working in careers related to Fine Arts tend obtained the following education levels.
| Level of Education | Percentage of Workers |
| --- | --- |
| Master's Degree | 25.2% |
| Bachelor's Degree | 23.7% |
| High School Diploma | 13.1% |
| Some College Courses | 8.6% |
| Doctoral Degree | 8.2% |
54.7% of Fine Arts workers have at least a bachelor's. View the chart below to get an idea of what degree level most of those in fine and studio arts careers have.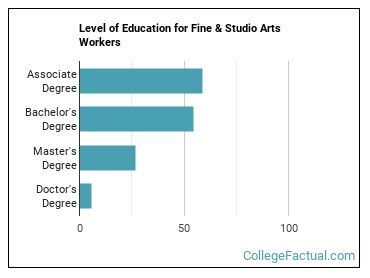 This of course varies depending on which Fine Arts career you choose.
Career Opportunities for A Degree In Fine Arts Graduate
Above Average
Number of Jobs
$25k
Average Starting Salary
6% Growth
Job Outlook 2016-26
Fine and Studio Arts graduates work for a number of different companies including commercial art studios, manufacturing companies, performing arts companies, and art galleries. Some graduates have decided to be self-employed and are commissioned to create pieces. Artists who rely on selling art to make a living may have a difficult time and need to work an extra job.
Growth Projected for Fine Arts Careers
Want a job when you graduate with your Fine Arts degree? Fine & Studio Arts careers are expected to grow 6.3% between 2016 and 2026.
The following options are some of the most in-demand careers related to fine and studio arts.
| Occupation Name | Projected Jobs | Expected Growth |
| --- | --- | --- |
| High School Teachers | 1,095,500 | 7.5% |
| Photographers | 139,000 | -5.6% |
| Art, Drama, and Music Professors | 137,200 | 12.0% |
| Art Directors | 95,200 | 5.4% |
| Multimedia Artists and Animators | 79,900 | 8.4% |
How Much Money Do Fine Arts Grads Make?
Recently graduated fine and studio arts students earned an average of $25,006 in 2019-2020. Earnings can range from as low as $7,984 to as high as $59,073. As you might expect, salaries for Fine Arts graduates vary depending on the level of education that was acquired.
Highest Paid Fine Arts Careers
Salaries for fine and studio arts graduates can vary widely by the occupation you choose as well. The following table shows the top highest paying careers Fine Arts grads often go into.
| Occupation Name | Median Average Salary |
| --- | --- |
| Art Directors | $104,590 |
| Art, Drama, and Music Professors | $82,560 |
| Multimedia Artists and Animators | $78,230 |
| Artists | $67,700 |
| High School Teachers | $64,340 |
Getting Your Fine & Studio Arts Degree
With over 3,759 different Fine Arts degree programs to choose from, finding the best fit for you can be a challenge. Fortunately you have come to the right place. We have analyzed all of these schools to come up with hundreds of unbiased Fine Arts school rankings to help you with this.
Top Ranking Lists for Fine & Studio Arts
Study Areas in Fine & Studio Arts
Fine & Studio Arts is one of 10 different types of Visual & Performing Arts programs to choose from.
Fine Arts Concentrations
Popular Reports
College Rankings

Ranking Types

Athletes

Students From
Best by Location
Degree Guides by Major

Fields of Study

Popular Majors

Popular Majors
Graduate Programs

By Degree Level Popular Programs
Compare Your School Options