2022 Engineering Mechanics Degree Guide
Do you love learning how things work? A major in Engineering Mechanics will prepare you for a career where you can design, analyze and build structures and machines. Students will study physics to apply Newton's laws of motion to real-life scenarios. You will know the effects of forces and torques on particles and rigid bodies and use these concepts to analyze safety, stability, and design. Through your studies you will learn the mechanics of motion and the strength of different materials. With this degree you will be able to research, design, develop, test, and manufacture different products.
In this major you will take advanced mathematics courses like calculus and statistics courses along with basic computer courses. You will also take courses in physics, thermodynamics, kinetics, chemistry, quantum mechanics, and fluid mechanics.
There are very limited number of schools who offer this major, so if this interests you make sure the schools you look at will allow you to graduate with a degree in engineering mechanics.
Rapid Growth in Engineering Mechanics Degrees Awarded
5.5%
Increase in Graduates
Engineering Mechanics was the 308th most popular major in the 2020-2021 school year. Colleges in the United States reported awarding 272 degrees in this year alone. This is a difference of 15 over the prior year, a growth of 5.5%.
Our 2023 Best Engineering Mechanics Schools ranking analyzes 10 of these schools to determine the best overall colleges for engineering mechanics students. Explore this or one of our many other custom engineering mechanics rankings further below.
Best Engineering Mechanics Schools by Degree
What Are The Requirements For a Degree in Engineering Mechanics
This is not an easy major. You should be ready to spend long hours in the lab working. Dedicating many hours to finding more efficient methods of solving problems should be something that excites you. Making things work better, more efficiently, quickly and less expensively will be part of your job.
As an engineering mechanic student, you will be asked to work hard in order to get background in engineering and then you will apply your knowledge in the real-world. You will learn how to apply methods and formulas to actual experiences. Many schools will require an internship or a co-op program so that you are able to get hands-on experience in this field. A co-op program is alternating semester of work and school. This is so that you can prepare yourself for a professional career.
Getting Accepted Into an Engineering Mechanics Program
New students will need to have completed high school or a GED program and each school will have their own minimum GPA and SAT/ACT test requirements. Specific engineering mechanics careers may require a certain level of degree attainment or additional certifications beyond that.
Types of Engineering Mechanics Degrees
Engineering Mechanics degree levels vary. You can get anything from a in engineering mechanics to the highest engineering mechanics degree, a . Different engineering mechanics degrees vary in how long they take.
| Degree | Credit Requirements | Typical Program Length |
| --- | --- | --- |
| Associate Degree | 60-70 credits | 2 years |
| Bachelor's Degree | 120 credits | 4 years |
| Master's Degree | 50-70 credits | 1-3 years |
| Doctorate | Program required coursework including thesis or dissertation | At least 4 years |
A bachelor's degree is the most common level of education achieved by those in careers related to engineering mechanics, with approximately 54.8% of workers getting one. Find out other typical degree levels for engineering mechanics workers below.
| Level of Education | Percentage of Workers |
| --- | --- |
| Bachelor's Degree | 57.4% |
| Master's Degree | 14.5% |
| Doctoral Degree | 8.3% |
| Post-Baccalaureate Certificate | 5.6% |
| Associate's Degree (or other 2-year degree) | 5.3% |
92.0% of engineering mechanics workers have at least a bachelor's. The chart below shows what degree level those who work in engineering mechanics have obtained.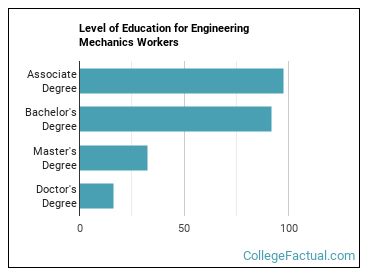 The education level required is different depending on the engineering mechanics career you are seeking.
Engineering Mechanics Careers
$64.4k
Average Starting Salary
7% Growth
Job Outlook 2016-26
With a degree in engineering mechanics, you can go into many different areas. Depending on your interests you may work in transportation, power generation, energy conversion, environmental control, or biomechanics and you will be prepared to work in a number of functional areas. This is degree is applicable to wide range of needs and is one of the broadest engineering disciplines.
Growth Projected for Engineering Mechanics Careers
Want a job when you graduate with your engineering mechanics degree? Engineering Mechanics careers are expected to grow 7.1% between 2016 and 2026.
The following options are some of the most in-demand careers related to engineering mechanics.
| Occupation Name | Projected Jobs | Expected Growth |
| --- | --- | --- |
| Architectural and Engineering Managers | 190,000 | 5.5% |
| Engineers | 141,000 | 6.4% |
| Engineering Professors | 54,600 | 14.7% |
How Much Money Do Engineering Mechanics Grads Make?
Recently graduated engineering mechanics students earned an average of $64,399 in 2019-2020. Earnings can range from as low as $61,649 to as high as $67,403. As you might expect, salaries for engineering mechanics graduates vary depending on the level of education that was acquired.
High Paying Careers for Engineering Mechanics Majors
Salaries for engineering mechanics graduates can vary widely by the occupation you choose as well. The following table shows the top highest paying careers engineering mechanics grads often go into.
| Occupation Name | Median Average Salary |
| --- | --- |
| Architectural and Engineering Managers | $148,970 |
| Engineering Professors | $113,680 |
| Engineers | $99,410 |
Getting Your Engineering Mechanics Degree
With over 48 different engineering mechanics degree programs to choose from, finding the best fit for you can be a challenge. Fortunately you have come to the right place. We have analyzed all of these schools to come up with hundreds of unbiased engineering mechanics school rankings to help you with this.
Top Ranking Lists for Engineering Mechanics
Study Areas in Engineering Mechanics
One of 40 majors within the Engineering area of study, Engineering Mechanics has other similar majors worth exploring.
Majors Similar to Engineering Mechanics
View All Engineering Mechanics Related Majors >
References